busy busy busy busy.
phew... here's some time for myself. finally.
not because i'm free cuz there're still mountains of stuffs behind my back.

haven't been updating much lately.
but hey, i realised that there's still some streaming into this little space of mine.
that was really unexpected as even me myself haven been entering my own space for a really long time.
it's really heartwarming.

have been thinking about many many things while i was in the shower just now.
my mind is always flooded with thoughts whenever things aren't very good.
i just wonder how are others doing.
though some of us are just so far apart, it's just really amazing how these feelings still exist.
the love, the care, the concern.
lately, due to all the stuffs i have around me, it's like i hardly have the time to talk.
maybe, a few messages on msn.
but deep inside, there's just so much to say.
it's just impossible to put them into a few words.
and the best is to summarise them into how are you.
which i dont think it represents much of what i wanna say.
mainly what i wanna say is that you're still in my thoughts.
really really.
I hope everyone out dere is doing fine.
all things just cant be smooth flowing everytime i believe, right?
good days, bad days, happy times, sad times.
so the main thing is that we cope well with them.
thank you sinyee for the timely sms that came in after a some sort bad day.
it's really heartwarming!

we just need to take sometime to take care of one another said a friend.
no matter how busy we are.
cuz we all are.
i totally agree.
the effort goes a long way.
a post on facebook, an sms, a call...
cuz it's often more than just a conversation that we're making...

so no matter how long we havent conversed, trust me you just were in my thoughts while i was in the shower a minute ago and i pray that you're doing well.
or even we're gifted to see each other so often, talking oh so frequently, i treasure it well, even if we run out of topic.

cuz the best conversation is one that nothing is said, but felt as if we've talked bout everything.
take care buddies.
i love you all.

and for you ricky.
don't get discouraged.
it happen at times.
but stay strong dude.
sorry for not spacing out some time for myself, or even at all lately.
you've been really great.
love you more than ever.
i know you can feel it from deep within.
so much more and real than what words could ever express.

11:49 PM
Didn't really have the mood to write for the past few days.
And that kept my write out on the Bangkok trip stalled for quite some time.
Well, and here am I again to continue on it while allowing myself to get distracted by Special Forbes 20 Young & Rich.
Gosh, these people, or rather kids, are really rich.
Phew.
Alright alright, Bangkok, come to me.

---------

Day 3 in Bangkok.

Day 3, as planned, was our HARDCORE shopping day!
Early in the morning, I guess the guys got lucky.
We had our turn for the breakfast buffet today but no one was there to check on our room keys when we enter the café.
So, after a nice meal, we woke the girls up to shoo them down for breakfast. Hahas.
And when we're all done, we got all our thai bahts ready and off we went to the famous fashion mall just beside us.

We started from Basement 1.
We gave ourselves 1 hour of shopping at this level before we meet again at our meeting point –the escalators.
Believe it or not. 1 hour is way not enough for us as we were slowly cruising around.
I guess at that point of time, we hadn't picked up the speed yet.
Still warming up. Haha =D
The place is just HUGE!
As for the guys, 1 hour wasn't enough for us to go through all the guy shops.
Therefore, the girls. Hahaha
When we met up after 1 hour, they were complaining how crazy it was.
Shops after shops. Having almost all the girl stuffs they wanted to look at but didn't have the time. Hahas.
But still, vina and fritzie got quite some stuffs out of it.
Guys? Nothing so far, as we still think there's more to explore further up.

Level 1. Another 1 hour.
Level 2. This time we reduced it to 50 mins. Haha.
Why? Cuz the mall have SEVEN stories. So we just need to manage our time.

Okay, and so we covered 3 levels. B1, 1 and 2.
And here, we took an intermission for lunch =) hahs
Headed for the food court at the top floor.
Same thing as day 1.
We'd to purchase these food coupons.
But this one is cooler.
We got a card instead. A prepaid card.
So we just basically scan the card to purchase food.
And when the credits in the card is all used up, the stall holder will keep it.
We got smart.
We did some budgeting and tried to use up the stored value in the card, leaving 1 or 2 baht behind so that we can keep it as a souvenir =) hahas
The thai milk tea here was SO NICE and super cheap!
I got myself 2 cups.
Tea over-dose for the day. Hahahs
But never mind, I need it for the shopping later.

This time, our strategy was from up to down.
Level 6. SO MANY BAGS!
The girls really had a hard time walking away from them.
Me? Nah, not into thai bags.
I had already invested into my beloved River Island bag. Love it and I'm staying loyal to it. =)
30 minutes for Level 5, 30 minutes for Level 4. And our legs are reaching their limits.
Breeeakkking.
Two more levels to go.
The mall is just like never ending. Really.
And we're almost broke. Especially the girls.
The bags they carry are really big and heavy.
Hence, to save their money and save our legs, we set 45 minutes for both level 2 & 3. Hahas.
1 hour to 50 minutes to 45 minutes to 30 minutes and then this.
What a drop in our stamina!!! Hahaha

We finished the mall at around 6pm. P-H-E-W!!
Sersiouly.
We were almost dead as we just sat at this coffee café discussing where to go next.
For half an hour.
Well, basically it was to allow our legs to recharge.
Wanted to head back to hotel for a rest.
But our ego for going on around town is still in us.
Oh well, in the end, the guys and the girls made a deal.
We being nice gentlemen decided to carry their big heavy shopping bags as we explore town further.

We walked the streets and settled down at KFC for dinner not long after.
KFC in Bangkok?
What a great choice right?! -_-"
But well, we were too hungry then.
We just convinced ourselves that thai's KFC is rather different from singapore's and malaysia's.
They really are.

(to be continued... a whole big chunk to write on our most fun night in Bangkok. Our last night, duh!)


11:16 PM
Watched WANTED yesterday with runjin and siewpeng!!
=))))
Finally I get to watch it.
And the best thing is at just SIX RINGGIT!!!
Which is only 2.5 singapore bucks for a good cinema =DD
5 singapore bucks can only get a seat at the ultra run-down princess in Singapore, Bedok.
That explains why I'm always a movie maniac back in Malaysia. Hahas
Hmm… back at Singapore, I still am. Opps =p

WANTED was really greeeeeeeeeeat!
The car pursuits.
The way they handle guns, shooting.
Man!!
Coolness.
LURVE it.

------------

Okay. The highlight of day two of the bangkok trip.
The market was really big, HUGE… HUMONGOUS!!
They just sell whatever stuffs available.
Crowd? Man, it was really packed.
This is where the four of us lost contact for a while as we were looking for our respective stuffs.
Cuz there is just too much stuff to look at.
And a while later, I bumped onto vina and steven, which I found out they just met only a moment earlier.
Well, we expect fritzie to pop up next.
But still fritzie is still nowhere to be found after half an hour.
Among the four of us, fritzie is lost and she's the ONLY ONE with a useless mobile phone without roaming.
The reason she claimed for carrying it around?
To use it as a calculator.
DOTS. -_-"
Okay, so we were just unable to contact her.
We got worried.
But the only way was to wait for her call.
"hmm… maybe fritzie is having the time of her life."
Vina said.
Hey, that can be quite true, actually, we thought.
Hahas.
So oh well, after waiting for half an hour, we decided that maybe fritzie prefers to do her shopping without any distractions from us.
And so we proceeded with exploring other parts of the market.
As we stepped foot at the end of it, or rather, we thought it was the end of it… GOSH!
IT IS LIKE STEPPING INTO ANOTHER SHOPPING SPREE!
A much bigger market or night market with a huge huge huge crowd.
GOSH.
There is no way we could ever find fritzie here.
Definitely no way.
And so, we joined in the crowd to explore a whole new world. Hahas
But still, we tried to keep an eye on any person who looks similar to fritzie.
Oh and then there is this corner which we turned into not long after.
Everyone stood still.
So still.
I was kinda stunned.
Like what's wrong with the people here.
Most stood still except a few who are like us, trying to figure out the situation.
And soon, I held steven and vina from moving on as soon as I realized that the thai national anthem is playing through the public announcement system.
Wow. Didn't know thais are to patriotic. Hahs
After standing still for around a minute or so, the crowd sprung into life again =)

And later I spotted this stall selling this same extremely amazing thai ice-cream that May-yo treated us yesterday.
I hurriedly went over and got myself one!! Hehs
Felt as if I was in heaven after savouring every mouth of it.
Heee..
Vina is always attracted to almost every stall that sells accessories and those that are on some crazy sale.
I remembered one which says buy one free TWO!!!
Hahas. Vina's eye immediately sparkled.
Oh and there's this one too.
Packed with ladies.
SERIOUSLY PACKED!!
And vina hurriedly went over to squeeze in. lols.
Well, luckily I had my beloved ice-cream with me while waiting.
Poor steven. Hahahaha.

Darkness sank in at around 7pm.
The pain of our feet is killing us.
But STILL… fritzie is nowhere to be seen.
This is really scary, cuz we really dunno how she is.
And we couldn't really go back to our hotel room cuz the key is with fritzie.
Well, at least the good thing is that she's alone and she has the key which I passed it to her earlier in the day.
That's why sometimes I really think things do happen for a reason.
We really want to head back to our hotel at this time.
It's getting late and our stomachs are still empty.
The key… =\
What if fritizie isn't back yet?!
Suddenly as we were walking towards JJ Mall, I was struck by an idea of calling our room.
I am just so SMART!! =D
Okay, and we searched around for a public phone and called the hotel.
And when we were connected to our room's phone…
SOMEONE ANSWERED!
And that's fritzie, of course.
Hahas
GOSH, we were so relieved.
She told us how she missed us. Awww.. =)
Hahahs
"did you cry?" we wondered.
She claimed she didn't. haha.
But her voice, erm, sounds rather different. Hehs.
Well, at least we know she's safe.
Thank God.
So the three of us hurried back to our hotel.

Back in our room, fritzie had a whole big pile of stuffs.
Vina got it right.
Fritzie was having her time of her life shopping around still. Hahahs
Didn't asked much as the hungry souls rushed out in a hurry to get ourselves dinner.
We packed thai food at some of the road stalls near the hotel.
Since, we're in thai, might as well give it a try. Hahs
And it's around 8.30pm and we have not much choice left as the malls are all closed.
Lazy people.
With our hands full of packets of food, we happily headed back to our room for dinner.
Whee.
It's really nice sharing the food we bought while eating on our beds…
Playing cards and talking about the whole unforgettable incident this afternoon at the same time =)


9:53 PM
Day2 in Bangkok.

Woke up incredibly early to get ready for the canal tour we signed up at the airport.
It was really hard to pull ourselves up as we got only four hours of rest, at most.
As soon as we got down to the lobby, we were greeted by our private tour guide.
May-yo.
She's really friendly and her actions are funny too.
Her English wasn't really good but she made an effort in remembering our names.
Ricky, Steven, Monica (fritzie's msh name), Vina.
Ricky, Steven, Monica, Vina.
Ricky, Steven, Monica, Vina.
And a while later, it evolved to…
Ricky, Steven, Monaco, Sophia…
Hahahs.
Monaco is a really cool name for fritzie I think. =p hehs.
The private van was cool =)
A super big van with just the four of us.
I felt so like a VIP.
And so, May-yo briefed us on Bangkok and the tour that we were about to have.
Her simple English was still understandable most of the times.
But at times, she was like "PHEW~~I don't even get myself, how can you?" hahs

She treated us really well because she said we reminded her of her sibilings.
So, she tried her best to take care of us like little kids.
"You guys are very nice people" "I am very happy today!"
She said.
She is so alive and so excited being with us.
I just love the feeling of making someone happy and so welcomed!
It's really nice and heart warming =)

On the ferry, May-yo climbed onto the boat in a flash to get seats for us while we were slowly trying to balance ourselves as we get onto it.

I'm on WATER!!


Basically the whole tour is just showing us the life of the people staying by the river and the many thai temples and buildings.

Halfway through the tour, we stopped over at this snake farm.
We couldn't be bothered to pay and watch those eerie creatures.
Rather save the money for shopping instead ;) hahahs
Steven treated himself to this thai coconut and so we settled down to talk about our plans later.

Steven decided to pose with his coconut.



Our private tour guide...



with us.



Chilling out and discussing bout our plans for the day


3 more days left, and so we had gotta maximize our time.
There's just one thing to plan actually.
Shopping =D

May-yo treated us to this really superb thai ice-cream.
Was AWESOME!!
She's really nice to us.
"Ricky!!" "Please give me a SMILE".
That's something she keeps telling me when I bored. hahahs.
Not just that, it's just funny when she calls MONACO or sophia. lols!!

A photo at the end of the tour. Thanks May-yo!


After the tour, we headed off for the Catucak market.
Goodness, it was really burning hot when we arrived there.
So we hurriedly search for a shelter to have lunch first.
And we found one in the middle of the market.
Fritzie couldn't take her eyes off the waiter.
Her hormones were raging throughout her entire lunch till she gotta take down TWO BIG BOWLS of rice to compensate for the loss of energy. Ahahhas
The restaurant was really unprofessional.
They served our dishes but didn't give us any cutleries.
Hmm…I didn't know that thais eat with their bare hands or fingers.
And then as we were almost finishing our meal, we realized that they haven't serve us the bread to complete our meal.
Haih…I thought that was supposed to be served like BEFORE the meal.
Well, that's just not it.
The unforgettable part was when we asked for the bill. hahs
The first bill was a blank piece of paper, stating nothing but just the total amount.
And being young, trouble-making tourists, we asked for a detailed breakdown of the bill.
The fritzie's cute waiter stunned.
Maybe he didn't really get what we meant.
So we somehow actioned out what we trying to say and got the message across. Ahaha.
I felt quite bad for him as he sat down not far away to list down the food that we ordered.
One by one.
And then……
The amount didn't tally with the first bill.
OKAY, we were quite disturbed this time round.
And we called for THAT waiter AGAIN.
He himself seemed puzzled, but took the bill and did some recalculations again.
Feeling rather embarrassed to put him into such situation, fritzie and vina insisted that we should stand up for our rights.
I think so too.
And I was really curious how the guy is gonna get an excuse on that.
A while later, he came back and said that the bowls of rice cost 15batt each instead of 10batt (which we enquired earlier).
He gave us a smile and apologized.
After all the "trouble" we caused him, we thanked him for clarifying our doubts and laughed.
It's weird. But I guess we're just being too friendly.
Because, actually, we were stunned. Like what the hell??!? He can just increase the price of the rice just like that?
Oh well, because of the language barrier, we would rather save ourselves the energy to do more shopping after this.

Phew… so much to say in day 2!
And the highlight of the day was what happened later.
Goodness. Gonna leave that big chunk for the next post.
Turning in soon.
Good nites ricky =)
Love ya! =D

XOXO.

12:50 AM
It's exactly one week after the Bangkok trip.
A 4days 3nights trip. Think it would be better if we had more days and of course, more MONEY to spend over there. Hahas

Day 1
Flight was at 1340hr. The four of us, Fritzie, Vina, Steven and I took this cab to the airport from my house.
Being all so excited about the trip, even though we're still in Malaysia and JUST on our way to the airport, I guess Vina had filled half of her camera's memory with our camwhoring pictures in the cab itself. Hahaha.

Glam shot 1



Glam shot 2



Studying about Bangkok.

And so many more. Took so many just to get her picture perfect shot due to the anti-shake feature which refused to function properly, somehow.
Fritzie on the other hand, aside from participating in the camwhoring, she was pretty amused in pronouncing the Malay words she found on the road signs.
"Berhenti" "KLIA" (which she pronounced as CLE-A, too much reading of CLEO magazines). Etc etc

At the airport, we checked in our empty luggage bags. Haha.
Empty so that there's room for us to lug all our stuffs back! =D
Fritzie had this craving for ice-cream so we headed to McD to look for a seat.
It was packed! All because it's the only fast food outlet there.
It was there we when I just realized that there's a time difference between KL and Bangkok as I was looking at our itinerary.
I was wondering why the hell the flight back to KL takes THREE hours while the flight to Bangkok is just ONE hour.
For a moment I was thinking maybe the return flight will stopover at some place or fly at a slower speed. Hahs.

Arrived at Bangkok at 1445hr, Bangkok time.

Just arrived! =D


The immigration was pretty different from the ones at Singapore, as in they asked me to look into their webcams for photo-taking. Hahs.
I feel like a criminal. Just that they didn't require us to hold a number to be taken with the photo.
I wonder how many unglam pictures they have, especially people/tourists after a tiring flight.
Oh well, then the guy asked me, "where will you be staying in Bangkok?".
I stunned. Gosh, I am still so unfamiliar with the names of the Thai places/hotels.
While I was trying my best to recall and blurt out some thai words, the guy smiled and just told me to write Asia Hotel on the visa.

Finding the way around Bangkok isn't an easy task, really.
Even the cabbie wasn't very sure where our hotel is.
He drove us around, trying his best to ask for directions from the passer-bys.
"oh no, don't tell me….", Vina kept on freaking out as the driver drove pass some really rundown buildings.
We didn't really know how our hotel really looks like as we just booked them online.
Some places we passed by are really those alley which are really eerie and disgusting.
It was really funny to imagine ourselves living in such an environment.
Like a mini wet-market just below the place we live, how we can just walk down the stairs to get food or order delivery from the stall holders. Hahahas. The scenes was just hillarious. We laughed really hard and I almost got a stomachache.
But deep inside we were praying hard that our hotel would be far from it. Hahs.
And a while later, we were surrounded by malls!! Our prayers were answered! =D

Malls.



Malls.



and more Malls...



Fritzie's excited by the malls.



So am I =)



And STILL MORE!!


Well, the good thing, at the end, our hotel turned out to be elegant and nice just somewhere at the doorstep of all the shopping malls as describe in all the forums online!! Yay =)

After settling down, the hungry souls went out to scout for food when it was only around 6pm. BANGKOK TIME. So, basically, it should be 7pm Malaysia/Singapore time.
No wonder we were that hungry even though the sky is still so bright.
We went MBK for food and did some market survey first.
Didn't want to splurge on the very first day, BUT still, I gave in to getting myself two t-shirts =D hahhs
Fritzie and Vina got themselves shades as they want to be more tourist-looking in the photos for the next few days. Hahahas.

Ohh, we gave the Skytrain a go!
The train system was really stupid, I think.
We headed to the ticketing office to buy the tics and she gave us a whole stack of COINS.
So basically, their job is just exchanging coins as commuters need to slot them one by one into the ticket machine to get the tics.
It just reminded me of buying tokens to play arcade. Tsk tsk.
Fritzie's first reaction right after we boarded the train is posing right in the middle of the train and asking for a photo!!!
But...we took ourselves first. Hahahah.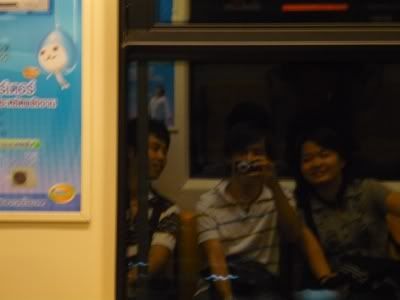 And she responded to it a while later. =)



Our train tics.


We can only do it for the first stop as the next was an interchange, so the whole train was quite packed.

Oh wells, I'll save Day2 for later. So that I have something to do later =P. Shall relax a while on the piano and watch teevee! =D



6:00 PM
Oookayyy…I'm finally blogging again.
Cuz now I have the time. Plenty of time.

Got up at 10.30. I had to. With just 30mins left to get myself and my house ready.
Tidied my bedroom, the living room, the computer room.
Got them done in a flash.
I wonder how I managed them, in the state of mere minutes after I woke up.
And I got the call as soon as I sit down to relax and turn on the TV.

I gave directions to them and they arrived promptly.
I was immediately asked to go out to do some "shopping" with them.
Yeah. Market shopping. Hahas

First stop. We got Onions and vegetables.
We were so amused at siewpeng as she pulled out a list containing all the ingredients she needed for the lunch menu =D
Haha
Carrot, potato, eggs etc etc
Talking about eggs. Hahas
She's a pro. She just went up to ask for THREE only.
The expression on the stall owner's face was like, HUH?
So it's like THREE eggs sitting like VIPs in a big plastic bag with paper shreds. Hahaha.
90 cents only. Cause that's what she have left.

Okay, then we drove back with our many bags of ingredients and laid them in my kitchen.
Gosh~ we seriously think it's really too much for all of us.
Hahs. Never mind. We see a big feast ahead.
The guys helped in cooking the eggs and veges.
Siewpeng was preparing and cutting stuffs that are to be added into the soup.
ABC soup! She bragged and bragged about it countless times before we have this cooking session.
The way she put her stuffs into the soup, haha.. super weird and funny.
It's like tho we guys never really cooked soup before, but we were like, "are you sure it's done this way?!?"
Then the three of us, jienfei, henglun and me, guys agree that she should dump in everything only when the water is boiled. Cuz now the cubes of potatoes, tomatoes are like floating around in the pot in a weird manner. Hahs.
And when it's siewpeng's turn to cook, she was like jumping and dancing around in front of the pan. Hahaha. cuz her dishes were those that requires much frying.
Jienfei kept popping the freshly cut carrot and cucumber cubes into his mouth and claimed that they're good for the skin.
I couldn't agree more ;)
I helped myself with some too.
Haha.. luckily there were still some extras left for cooking.

Fast forward.
And lunch is served!!! WHEE..
And we tucked in.
The dishes cooked by the guys are higher in demand apparently as they were almost gone in the blink of an eye =)
Simple and nice!!
Siewpeng kept showing her appetite to us in finishing the dishes that she cooked. Hahaha
The dishes were too much like we rightly guessed.
And my dad got the honour to try out our home-cooked food.
He thought the ABC soup was sweet potato soup cuz it looked like it.
Siewpeng and the guys were quite concern about his comments on the dishes as this is the first time for many of us in cooking those dishes.
Well, as much as I know my dad, he's happy as long as there is something for him to eat. He's not a fussy about things and love simple things.

After that was DESSERTS!! =)
Yup, good thing I had ice-cream in the freezer.
Later, we helped ourselves with red wine which I got it from the cupboard somewhere.
Ruijin and I drank it like how wine was supposed to be.
And yet, siewpeng, being the limelight of the day as usual was shocked by the taste of it.
Well~ cuz all the while she thought red wine = champagne!! Haha.
No wonder she was all-so-excited when I pulled the bottle out. =DD
We played games over it drinking session which we later turn into drinking coke to suit siewpeng's taste.
Played dai-dee and the game of BLUFF!
They were amuzed by the ass-hole concept I introduced to them from the way I used to play with my spore classmates – asshole daidee.
It made it more interesting ;)
Ruijin and I are the kings for bluff.
You definitely need the heads and the brains to bluff.
Well, tho henglun and siewpeng are new to the game and kept having the whole deck of cards in their hands, you guys are learning fast.
And so, they agree to learn to be more cunning these days and get back to this game to beat us soon! Hahs.


11:45 PM
This work is licensed under a
Creative Commons Licence
.
::: ricky :::

::: just a simple guy :::

::: loves life :::

::: loves music :::

::: gets myself to think about the memories we shared :::

::: dream dreams :::





*~ coming soon ~*

!! MY BIRTHDAY !!

A sexy+classy briefcase

Ties, Ties and more TIES

TOPMAN Clothings

another DAY at STARBUCKS

watch cloverfield

VANTAGE POINT. In cinemas on 21st Feb

Sean John fragrance =DD whee..!!

Black XS fragrance

A Levels results

watch SWEENEY TODD

chinese new year shopping spreeEEE [100% complete]

that custom made blazer

flying back to singapore to visit you guys

...No Greater Love...


Cat
HungWei
Mary
OldChan
Turtle
Yoke Chen
Yorsh,OhMyGosh!
Zhang Fan
|| January 2008 ||

|| February 2008 ||

|| March 2008 ||

|| April 2008 ||

|| May 2008 ||

|| June 2008 ||

|| July 2008 ||

|| September 2008 ||